Yokemate of Keyboards
Posts: 2636 from 2003/2/24
Quote:
Andreas_Wolf wrote:
Update:
"
The Limited Edition A1222 Plus Early Adopter boards are expected to ship around the end of the first quarter of 2020**. (**subject to change)
For more information on A1222 Plus pre-registration options please visit www.a1222plus.com which will be live in the next few days.
"
https://pbs.twimg.com/media/EMd8_tfVUAAIX79.jpg:orig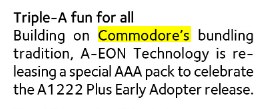 Why are they writing "Commodore" here? Parasite marketing? AFAIR Commodore *never* used the term "bundle" to merely sell a display box with merchandise and refurbished SW a quarter ahead of
the real
product might appear, "(** Subject to change)" of course, and then *not even granting* you a delivery of the real product if it ever appears, but rather
a possibility
to order one (paying extra) should it happen (on a first come first serve basis, which means no guarantees of actually getting one), or a 20% pre-payment scheme. I'm sorry, but the way I see it, this is not at all very "Commodore"-like, and not at all how the word "bundle" is normally used. It seems possible to purchase the "bundle" but *without even getting*
the real
product that the bundle is supposed to be merged with. Dodgy.
MorphOS is Amiga
done right!
MorphOS NG will be AROS
done right!